2019 Volkswagen Jetta performance
By Product Expert | Posted in Volkswagen Jetta on Wednesday, July 11th, 2018 at 7:33 pm
Just about everyone is familiar with the Volkswagen Jetta. This sedan has been one of the best-selling Volkswagen vehicles for more than a decade. It's still 2018, but the 2019 Volkswagen Jetta is out and it is better than ever. There are many ways we measure the prestige of a car. How much technology does it have? How fast can it go? How does its engine perform? Let's look at that last one. Keep reading to learn about what is under the new Jetta's hood. 
You might also be interested in: 2019 Volkswagen Jetta color options 
What engine does the 2019 Volkswagen Jetta have?
Jetta drivers have been pleased with their engine power over the years. Though this year's model comes available in five different trim levels and editions, there is just one engine option. A 147-horsepower 1.4-liter inline-four-cylinder engine powers the Jetta. This engine has just enough umph to give drivers a bit of a thrill and it is one of the most efficient motors of its kind. 
View our Volkswagen Jetta inventory 
2019 Volkswagen Jetta fuel economy
Most sedan drivers would be happy to average over 30 MPG, combined. Usually, automakers tend to especially advertise their vehicles that go over that 30 MPG threshold. Well, drivers of the 2019 Jetta will go far above that. On the highway. The new Jetta averages 40, yes 40 MPG. The city MPG rating comes in at 30 while the average combined gas mileage is 34.
---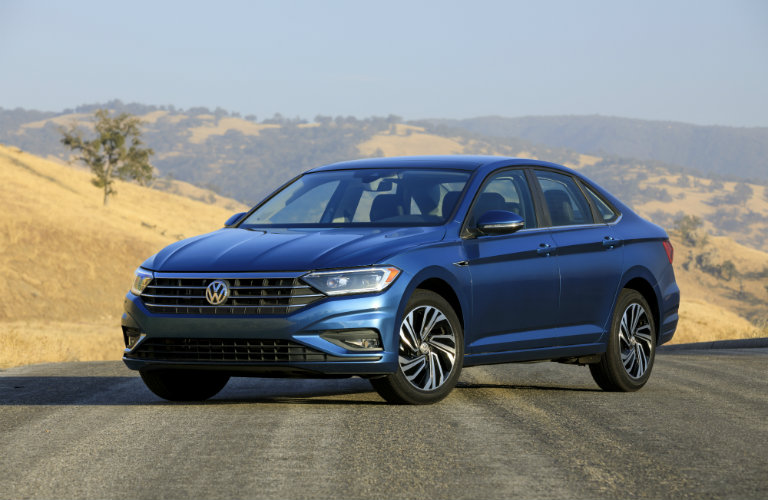 ---
We strongly recommend that you come check out the new 2019 Volkswagen Jetta for yourself. Anyone who likes stylish, efficient, affordable cars ought to love the Jetta. Who doesn't love those kinds of cars, anyway? Come in soon and our sales team will go over everything else you need to know.